Matthew 5:16 "Let your light shine before men in such a way that they may see your good works, and glorify your Father who is in heaven."
Incorporated in 2005, MSS Services has steadily grown from just a few engineers into a multi-million dollar corporation with a staff of more than 100 professionals. Our highly qualified staff can deliver construction management and related services involving a wide variety of project types, both in the United States and Internationally.
The availability of uniquely qualified seasoned professional offered under one roof is a value-added advantage. MSS has continuously demonstrated growth through the provision of high-quality services in support of commercial, government and utility clients. We offer our clients a team of professionals dedicated to providing quality services in a spirit of open communication and mutual cooperation. With a corporate philosophy focused on quality control and the success of each project, MSS promotes leadership by providing new and innovative solutions to today's construction challenges.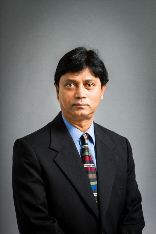 Paul Saha, President, has approximately 30 years experience in accounting and corporate finance. Paul formed MSS Services in 2005. Under Paul's watch, the company has built an excellent credit rating, strong financial position and superior customer service. Prior to MSS, Paul served as Controller for several other successful businesses. Paul holds a Bachelors of Science degree in Accounting.

| | |
| --- | --- |
| | Mark F. Carter, Vice President of Operations, is a graduate of Cleveland Institute in the field of Engineering. He has been recognized for his innovative application of advanced Electrical and Control System engineering concepts. Mark is a U.S. Navy Vietnam Era Veteran with a combined military and commercial career spanning in excess of 35 years. His entrepreneurial expertise and spirit inspired him to lead the formation of MSS Services, Inc., building on previous relationships and experiences. |




As Vice President of Business Development,
Matt Deeter is one of the founders of MSS Ser vices along with Paul Saha, President, and Mark Carter, Vice President of Operations. Matt is an engineering graduate of the United States Merchant Marine Academy where he received a commission in the United States Navy. After his engineering tenure at Newport News Shipyard as a nuclear Shift Test Engineer, Matt pursued a career in Business Development working for companies such as Honeywell and nurturing smaller start-up businesses along the way. Under Matt's guidance, MSS Services has grown from a handful of individuals in 2005 to the approximately 100 professionals that it is today.